Introduction to shoe pattern making course
Introduction to Footwear Pattern making is the course created by Arsutoria School for those who want to learn the technical development of shoe patterns.
Get started with shoe pattern making
"Learning by doing", learning by doing, has always been the distinctive feature of the Arsutoria School teaching methodology. Today reorganized in a mixed mode, online and face to face, the teaching of the Introduction to Footwear Pattern Making Course has been designed to be enjoyed in both solutions with the same qualitative effectiveness of teaching and learning. Teachers will always be present even for those who attend the course remotely: they will hold videotaped lectures and reviews in webinar mode, assign exercises, assessing students' progress from time to time, correcting and implementing the results in moments of sharing between students and teachers .
Is this the right course for you?
The Introduction to Shoe Pattern Making course is for:
Designers who wish to understand the technical development of footwear in order to competently follow the realization of their design.
The new generation of footwear companies owners, to begin a profitable and competent dialogue with the production reality they will have to manage.
Those interested in the world of footwear and want to know its technical aspects.
You can find this course in these career paths:
Follow our expert's suggestions and point your education towards your goals
At the end of the Introduction to Footwear Pattern Making course you will clearly learn the role of the footwear pattern maker.


You will become familiar with the technical language of shapes, materials and components and acquired the basic technical knowledge useful for the development of some models for women and men.
This knowledge will be useful to both designers and young entrepreneurs to be able to dialogue and collaborate in the best possible way with production technicians.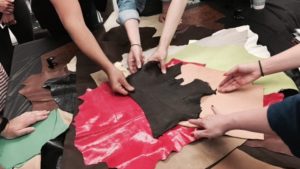 The shoe is a complex set of components, each of which contributes decisively to the aesthetics, quality and performance of the shoe. You will get to know the visible parts, those that define style and aesthetics and those that are invisible, but decisive for the quality and construction of the shoe: last, upper, lining, reinforcements. You will acquire a specific technical vocabulary, which will allow you a competent dialogue with the world of style and production of footwear.
You will learn more about the technical part of designing an upper for a variety of models
The design of the models will allow you to learn the manufacturing techniques of some patterns of classic footwear, both for men and women.
Prepare the cutting envelope including all the components of the upper, lining, reinforcements, padding and insoles.