How shoes are made course
A five days course to know how shoes are made. The course covers topics such as fundamentals of shoemaking of different constructions, materials and components used.
The course will entirely be held online through webinars and pre-recorded classes. Instructors will explain through slides and videos everything that happens from the moment the design is transformed into a product.
Is this the right course for you?
The How shoes are made course is aimed at:
Those who operate in footwear purchasing, costing and sales.
Designers who want to gain a general knowledge on materials, components and footwear constructions.
Anyone who wishes to know more what product development means.
You can find this course in these career paths:
Follow our expert's suggestions and point your education towards your goals
During this course, you will have the opportunity to learn and/or deepen your knowledge on:
Fundamentals of shoemaking
Analysis of world footwear production and its growth in the past years.
Overview of cemented/board lasted construction process: from last preparation to the finished
product: the foot, the last and the shoe.
Overview on upper materials, upper construction, shoe components and shoe constructions.
Review on Styling, Project, Pattern Making, manual operations, machine processes.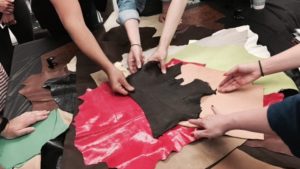 Detailed discussion on foot anatomy: the foot vs. the last.
The Last: overview, foot shapes, volumes, proportions, last modeling, tips for a good fit, last measurements and width systems. International Sizing Systems.
Examination of upper materials: leathers, fabrics, synthetics, action leather, by-cast. Insightful analyses on Leathers. Analysis of leather tanning processes. Main steps of leather tanning and leather finishing.
Fabrics/Textiles.
Upper and lining preparation: splitting, skiving, cutting (manual, press, computer-aided), taping, backing, edge finishing, upper assembly. Focus on the most commonly used edge finishes.
Upper pre-lasting and lasting. Design and pattern making for shoes and boots: traditional by hand and computer-aided shoe structure. Heels: from idea to production.